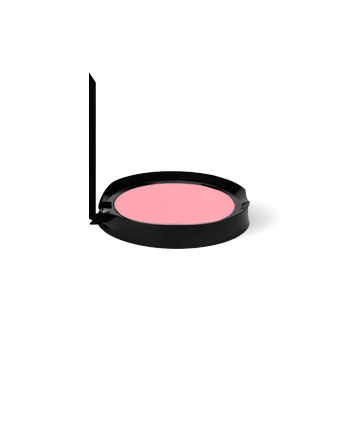 Ultra fine, jet-milled Ultra Blush is a long-wearing, highly-pigmented powder blush. Combining performance with technology, we took pure, micronized pigments and surrounded them by silicones, creating a longer-lasting product that neither creases or looks cakey.
Peach Glaze Ultra Blush is the most frequently used blush in my kit. The color is universally flattering on so many skin tones providing a fresh peachy glow with just the right amount of shimmer.
Ashley Donovan, Celebrity makeup artist
The silicones in Ultra Blush enable it to go on smoothly while creating a barrier between the powder and the skin. That's because the silicone molecule is bigger than the human pore. Unlike other products that fall into creases or skin imperfections, Ultra Blush literally floats on the surface of the skin. The silicones create a cushion between the powder and the skin, no longer emphasizing fine lines and wrinkles.
Ultra Blush is both moisture and oil resistant, as well as non-comedogenic, making it ideal for troubled or mature skin.
Moisture, heat and sebum resistant.
Key Ingredients
Silicone – Ensures that a formula is moisture, heat and sebum resistant; enabling the powder to float on skin as opposed to accentuating the look of fine lines and wrinkles. They also promote an even application of other ingredients and leave behind a silky, almost imperceptible feel that noticeably enhances the skin's texture and appearance.
Squalene – A plant derived emollient that's a natural component of skin and has antioxidant and immune-stimulating properties
Smile broadly and apply blush only to the apple of your cheek for a perfectly natural look. We recommend using our Buffer brush.
Sweep the blush from near the bottom of the earlobe to the apple of the cheek if you want to elongate your face.
Using our Contour brush, apply contour underneath the blush line, staring from beneath earlobe towards the corner of your mouth to create a shadow that thins your face. Tea or Mocha Ultra Blush can double as a contour or matte bronzer.
You're one step closer to owning this product!
Ultra Blush has been added to your cart