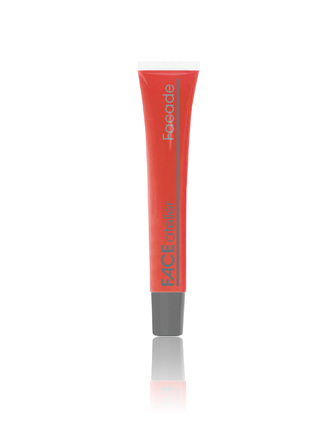 Silky soft and extraordinarily light, Facade is an innovative and ingenious product for face and lips. It makes cream blushes obsolete as its one-of-a-kind, silicone-based, gel-to-powder formula provides translucent, non-streaking and crease-free buildable matte color that sets with a natural, dewy glow. It gives cheeks a silky, subtle glow that looks natural and can double as a water-resistant base for lip glaze or lipstick. Long-lasting, the pro-friendly slant tip allows for easy application. Thanks to the silicone in the formula, Façade is moisture, heat and sebum resistant.
We all know about the beautiful texture of Ultra Foundation, and how it gives smooth, flawless coverage that never ever looks cakey. But another favorite FACE atelier product of mine is Facade. It seems every time I use it on a model, she asks me what the product is and raves about the beautiful color! I love it for a buildable, believable glow, and the smooth application. FACE atelier can do no wrong!
Alayna Rakes, makeup artist

Facade applies like a cream blush, but finishes like a powder. I always loved the natural "flush from within" of a cream blush, but needed the staying and blending power of a powder blush. Facade merges the best of both these cheeky worlds. It never moves, creases, or disrupts the foundation. I also like to think of Facade as a lip velvet. It has a soft, smooth, powdery finish on the lips that doesn't budge. With a great lip brush, I find that I rarely use a lip liner with Facade. It has been the answer for my search to find a long lasting, non-flaky lip color for my client, singer Kelly Clarkson.

Ashley Donovan, celebrity makeup artist
I will be buying more and more of FACE atelier Facade products in various shades. I was absolutely blown away by it! It is hands down the most comfortable, light weight and gorgeous products I've come across in a LONG time. I cannot say enough about it! For a cheek color, it blends easily and I was able to sheer it out to the color I wanted. A little goes a long way with this! It goes from feeling like an airy gel formula to a soft powdery formula instantly. I absolutely love it.

CosmeticsSanctuary.com
Façade is another example of FACE atelier's dedication to versatile, high performing multi-purpose products. It has excellent application for both cheeks and lips. And as per usual, a little goes an incredibly long way!
Façade is extremely blendable with seamless, even application. It gives you a youthful 'glow-from-within' flushed cheek that's natural and youthful looking. Bonus - because of the silicone in the formula it's water-resistant.
Façade is not a stain. And unlike stains, it has an extended drying time that allows you to move or adjust it. And it doesn't streak. Ever.
Key Ingredients
Dimethicone – A member of the silicone family, dimethicone ensures that a formula is moisture, heat and sebum resistant; enabling the powder to float on skin as opposed to accentuating the look of fine lines and wrinkles. It also promotes an even application of other ingredients and leave behind a silky, almost imperceptible feel that noticeably enhances the skin's texture and appearance.
Façade should be patted - not rubbed on. It can be applied with fingers (if you must) but we recommend you use our Contour brush to give the product an air-brushed look.
Façade sets, so you don't need to ruin its natural dewy finish with powder.
Facade color is buildable. Start out light, and then reapply to achieve the desired hue. You can buff down to the lightest hint of color or build to create an intense shade.
Have some fun and mix Façade shades to create your own custom color. Mix Cha Cha with Livid for a gorgeous mango-red shade that looks amazing on olive and rich skin tones.
Place Façade on the top of the apple of your cheeks and then lightly blend it down to accentuate your cheekbones. Contour below to really make them pop.
BRIDAL ALERT - Façade is a must-have Bridal product as it gives the bride a naturally dewy flush that thanks to the silicone, will be impervious to whatever tears may flow down her cheek through the day. It will also stand up to heat and humidity.
PRO ALERT - Façade is an excellent alternative to a powdered blush, particularly if you're using it in a HD environment. HD technology picks up powder so your photographer will thank you for making his retouching job easier. And your camera man will love you forever!
You're one step closer to owning this product!
Facade has been added to your cart